Megastart Ewe & LAMB
Scientifically Proven to Improve Lamb Daily Liveweight Gain at Pasture
An independent trial conducted at Myerscough College in 2013 involving 120 Texel X lambs shows lambs fed Megastart Ewe & Lamb grow faster compared to lambs fed grass alone. Growth rates of the treatment and control groups were 160g/day vs.120g/day respectively, a 33% statistically significant improvement (F=6.13; P=0.003) when Megastart is fed.
Megastart intake averaged 70g/head/day over the 6 week feeding period and there was no difference in grass intake between groups throughout the trial period.
Feeding Megastart Ewe & Lamb to lambs at grass can finish lambs earlier hitting the market before prices are depressed – see graph below (taken from Farmers Guardian):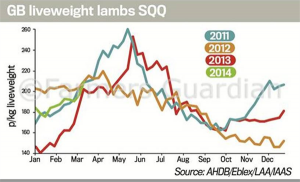 A balanced source of minerals, protein and vitamins, Megastart Ewe & Lamb also provides lambs with an excellent source of energy from sugars, starch and protected fat to achieve a quicker finish at grass, reducing feed costs and allowing lambs to achieve higher prices.
"Supplementation of Megastart Ewe & Lamb is a cost effective method of enhancing the finishing process and making finishing lambs a more profitable enterprise for the farmer."